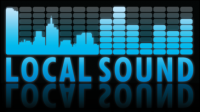 Local Sound June Show
www.localsound.co.uk
Local Sound produce a monthly online show to help promote new / up and coming bands and artists.
To get your track on the show just visit the website and follow the links to the Upload page.
It's 100% FREE and is a great way to get your music to a wider audience.
Check out the previous months shows on the website now.

Any style / genre is accepted.

Deadline for June show is 21/5/12

What have you got to lose?
Article posted by Local Sound on Wednesday 16th May 2012, 13:05:36.
Contact Local Sound