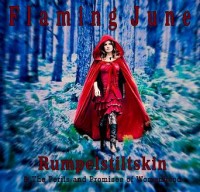 FLAMING JUNE
Alternative / Folk / acoustic
Last login: 2013-05-19 16:58:15
New Ep Rumpelstiltskin released April 2013.

Flaming June's EP Nerves of Steel won the award for best EP of 2011 from FATEA Magazine.

Flaming June have supported Eliza Carthy, 6 Day Riot, Ellen & The Escapades and Moulettes in 2010.

They have also played the Ely Folk Festival.

Singer/songwriter Louise Hamilton writes intelligent and powerful heart felt songs which are catchy and addictive, humorous and dark.

There live shows are high energy and passionate which makes them a great live act for festivals.

New EP Nerves of Steel OUT NOW
---
Recent Posts
Violinist/baking vocals wanted
Violinist with backing vocals wanted for alternative folk act Flaming June. Louise Hamilton (singer/songwriter/guitarist) is looking for a new violinist/backing vocalist for Flaming June.
Bands wanted for family fundraiser
Hi, I am organising a family music event for charity at a school (alcohol licensed event) just outside Cambridge on Saturday 29th Sept 2012. Genres required : acoustic/rock/indie/folk - family friendly material, original music preferred but some covers would be fine.