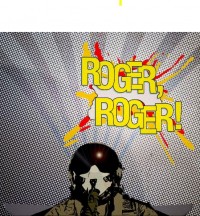 Wedding / Covers Band Need a New Singer
ATTENTION: Roger, Roger! are looking for a new singer!

Are you, or someone you know, interested in fronting an established Cambridge-based covers band?
Our current singer is sadly leaving us at the end of April, so we are looking for someone who can fill his boots!

We have a number of weddings already booked for 2017 as well as a handful of pub gigs, so we'd like to find someone as soon as possible so the transition between our current singer leaving, and the new one arriving is a smoothe as possible.

We play a wide range of rock and pop covers, from Arctic Monkeys, Kasabian and Kings of Leon through to the Beatles, Bowie and Queen, with some Lionel, Rihanna and Kanye thrown in there for good measure! You can hear us at our website, rogerrogerband.co.uk . As you can probably see from that, it's a pretty eclectic mix.
One of the most important things is that we are a bunch of mates playing for fun as much as for pocket money, so we're looking for someone who is reliable, but doesn't take themselves too seriously.

Please get in contact with us if you would be interested in joining us, either through Cambridge Bands, or by emailing on hello|rogerrogerband.co.uk

Over and out,

Roger, Roger!
Article posted by Roger, Roger! on Wednesday 1st February 2017, 11:02:41.
Contact Roger, Roger!