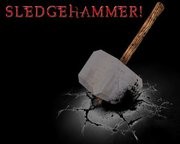 BASS PLAYERS!
We are SLEDGEHAMMER! - a new Cambridgeshire-based covers band playing classic hard rock & metal songs. We are looking for a bassist to complete the line up.
We are playing songs by Metallica, Megadeth, Queen, Iron Maiden, Judas Priest, ZZ Top, Marillion, AC/DC and several others. As we are a new band the set list can be adapted to accommodate the tastes and favourites of people joining the band.
Approx weekly weekday evening rehearsals in Cambridge. Looking to play occasional/semi-regular gigs in the Cambridgeshire area.
We are doing this for fun and enjoyment although we take it seriously enough to play the songs well and look & sound good on stage etc.
For more information please visit
www.sledgehammerband.co.uk
or email steve[at]
pamjoyce.freeserve.co.uk
or andy[at]
the-roebucks.co.uk
Article posted by Steve Drums on Thursday 17th February 2011, 22:02:14
Back to the 'Join a band' board