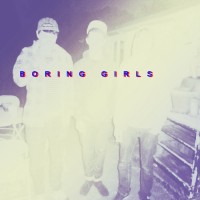 ANTA, City Seventeen, Boring Girls, Squeeze Me Macaroni at Portland on Thurs 12th May
We're playing at the Portland this Thursday so come along. You can listen to us here:

http://boringgirls.bandcamp.com/
http://www.facebook.com/boringgirls

Here is a link to the event on Facebook:
http://www.facebook.com/event.php?eid=173369062710739

ANTA + CITY SEVENTEEN + BORING GIRLS + SQUEEZE ME MACARONI
Thu 12th May | The Portland Arms
8pm, £4 adv from http://www.wegottickets.com/event/113108

ANTA
Space-prog Bristolians ANTA are all about the heavy riffs. The instrumental four-piece follow monolithic licks with towers of psyched-out ostinato, all at preposterous volume. The resulting tunes sound a bit like Sleep jamming with Hawkwind after a good session of King Crimson and Oneida tunes. It's all the best bits of classic prog, the more enlighted doom groups, with a bit of metropolitan smartness that keeps from navel-gazing inanity. Their limited edition debut LP, "The Tree That Bears The Equine Fruit", recently came out on a subsidiary of Geoff Barrow's Invada Records, and is an epic treat that, naturally, kicks off with a gong. Switched-on heads who made it down to see The Psychic Paramount back in '09 should find much satisaction in ANTA.
www.anta.me.uk

CITY SEVENTEEN
A Cambridge bass-free three piece creating instrumental music spanning myriad approaches: expect math rock, Morricone-esque desert scenes and post-krautrock drones & jams.
http://cityseventeen.co.uk/

BORING GIRLS
Fresh to our ears, three Cambridge lads making loud, thrashy, disenchanted scuzz. Not for nothing are they named after a Pissed Jeans tune.
http://boringgirls.bandcamp.com/

SQUEEZE ME MACARONI
Warmly overdriven, Grouper-like loops and laments.
http://www.myspace.com/thatsqueezemegirl

Thanks a lot, hopefully see you there.
Article posted by Boring Girls on Tuesday 10th May 2011, 14:05:37.
Contact Boring Girls