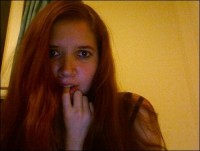 Girl Vocalist/guitarist
Hey guys and gals. My name is Toni, I am 24, looking to brach out from my home city of Norwich, in search of some like minded musicians.

I am aiming to join or form a punk/pop-punk/ska/melodic type band. Influences include The Ataris, Less Than Jake, Fall Out Boy, Mad Caddies, Sublime, The Offspring, Green Day and loads more!

As I said, I live in Norwich, but am willing to travel to Cambridge, should I find some people to jam with! I've played gigs in the past, and have been in bands for around 8 - 9 years.

Feel free to contact me: thitchings1987|hotmail.co.uk or text/call 07922759687 or add meh, https://www.facebook.com/SavannhsMummy

Cheers!
Article posted by Toniixo on Friday 20th April 2012, 21:04:29.
Contact Toniixo